Lawrence and I went to highschool together but recently started bonding over shared interests: photography. :) And as a thank you for being such a good friend, I repaid my debt with what I do best. Pictures! LoL.
And if you are curious of what happened, I'll gladly tell you with embarrassment.
The day I was supposed to sell my
car
, it disappeared. I had completely forgotten to safelist (it's basically a permit that let's you park overnight) my car the night before. And for those of you that live in communities where you can't have guests park overnight without safelisting, I feel your pain. Cuz seriously. It's annoying and it sucks. Anyhoo, I told myself to safelist and then 5 seconds later, I forgot. So the next morning, I look out the window and my car's gone. I just stare at the empty parking spot for a few seconds and then start dialing. I found my car in Garden Grove and now needed somebody to take me to the lot. Everybody I know is at work and I gotta pick up the car by 5pm if I don't want to be charged another day. Thankfully Lawrence was at a gas station 2 minutes away putting in gas... getting ready to go to school. I made him ditch, so I felt really really bad. I told him I'll buy him something yummy to eat and of all the things I could have bought him, he wanted a McRib sandwich. Hahahahaha. Lawrence cracks me up. So we totally bonded over the whole towing, Carmax and 'are you sure you just want a McRib sandwich' fiasco. Good times. Thanks Lawrence! You totally saved me that day.
Enjoy the pics!
LOVE this shot of law.
Looking good!
Hahaha. This one cracks me up.
Hahahahhaha. This one cracks me up too. His expressions are so funny. I love it! I had to stick my hand and camera in between the fence gate and just hope for the best without looking through the viewfinder. And I gotta say, it's one of my faves. Can't believe his eyes and mouth are perfectly outlined by the fence.
Hahaha. This is what Law thinks truckers do.
These are my favorites because they make me laugh. Thanks for being such a good sport Lawrence. :)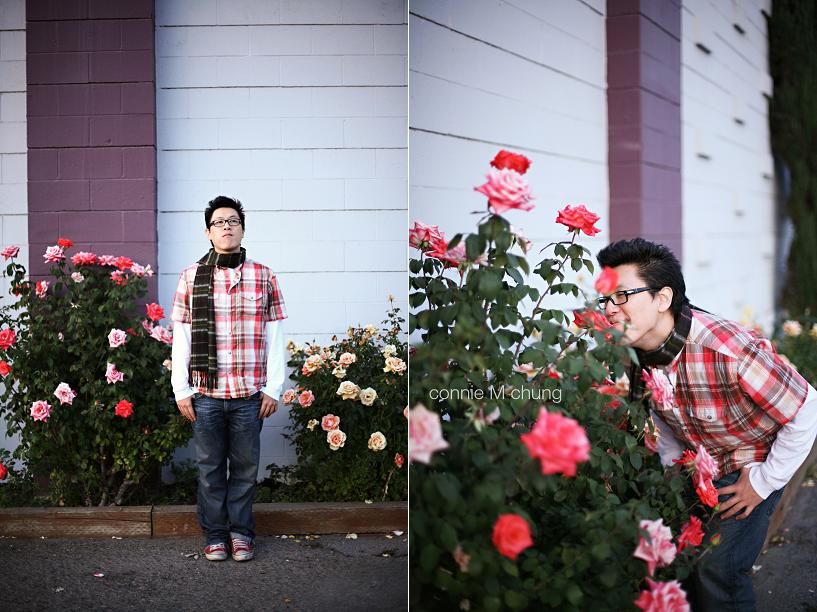 Lawrence is so hard-core. Love the shot on the right. Only he would lie down in the middle of Artesia Blvd.
Happy Monday!